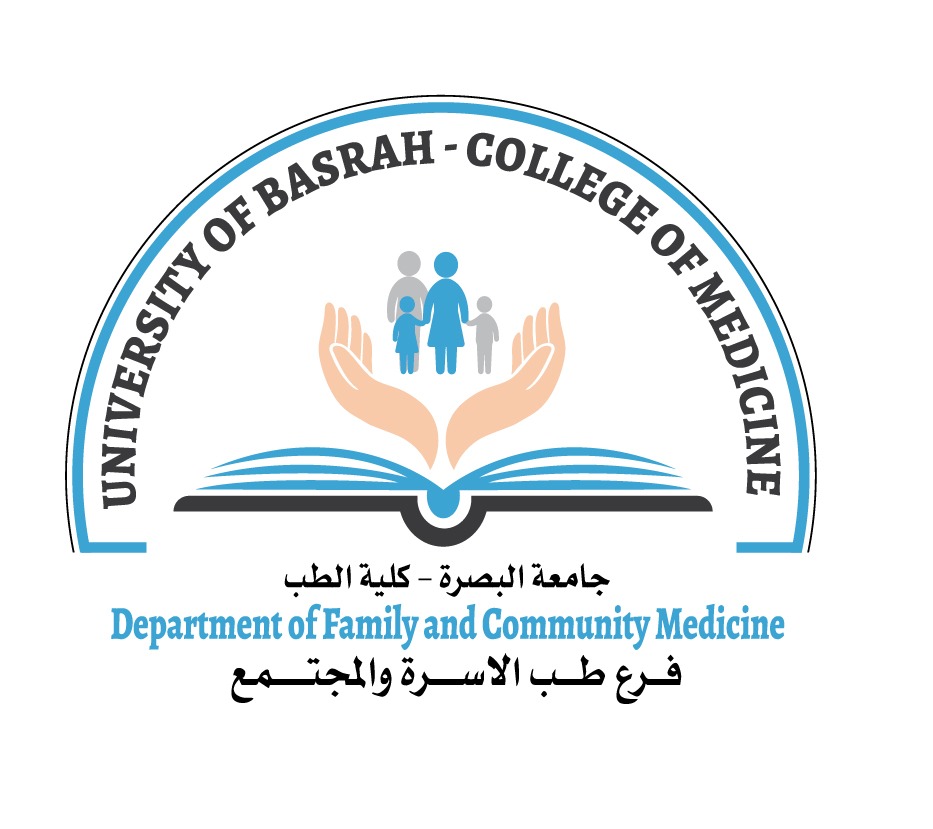 The Department of Family and Community Medicine has established dynamic mission and objectives which fit the overall
college mission and objectives and reflect the special role of the department. Also it envisages its own vision for the foreseeable future in accordance with the ever increasing role of public health expertise. These mission, objectives and vision were drafted by the Senior professors at the department and endorsed by the department council. It is made known for each faculty and displayed at the front view of the administrative office of the department.
Vision
Given the current spirit of high quality at the level of higher education in Iraq and the current vision of the Iraqi Ministry of Health which sees the
adoption of family health model as a strategic choice, it is expected that the demand on highly qualified doctors in community medicine and family medicine will substantially increase to met the future strategy. The Department of Community Medicine envisage that postgraduate studies need expansion vertically and horizontally like splitting the Master degree in community medicine into at least two degrees; one is in epidemiology and the other is in Health Care. Initiation of diploma courses in family medicine and planning for the establishment of a Public Health Institute in Basrah are two other inspired aims. Efforts to increase the teaching and research staff is inevitable in the coming 5-10 years. We inspire to see our department as effective contributor to the future educational and health strategy and pioneer in scientific research.
Mission
The Department of Family and Community Medicine carries a fundamental message which encompasses deep-rooted faith in and continuing efforts to cultivate the concepts, principles and practices of Community Medicine or public Health Medicine at philosophical, practical and academic domains. The department endeavor every effort to share at any level to help promote, protect and restore population health, to contribute to relevant teaching, research and advisory work. In addition, the department tries to disseminate the culture of partnership, team work and system approach to problem analysis and system design. The department of Community Medicine is pioneer at the national level in establishing and strengthening of postgraduate studies both at the academic and professional level.
Objectives
1. To actively contribute in qualifying doctors who are able to serve the interests of population in promoting, protecting health and restoring health and rehabilitating handicapped.
2. To strengthen research capacity both at the level of the department work territory, the level of College of Medicine- University of Basrah and at the level of the health care system.
3. To carry out and supervise research work that assists in supporting the first two objectives and also to contribute to the solution of important public health problems.
4. To provide advisory work to relevant local and national partners and non-governmental organizations within the context of public health medicine domains and in accordance with the department objectives and national interests.
5. To enhance, support and evaluate the adoption of family health model in Iraq.
6. To enhance the provision of high quality medical teaching and high quality health care with emphasis on adequacy, effectiveness, efficiency and scientific and technical excellence as important components of quality.
7. To make mutual links with external scientific and professional partnerships in accordance with department mission.
History
The Department of Family and Community Medicine was established in the academic year 1971-1972 as the Department of Public Health, Preventive and Social Medicine. In 1980 it was re-named to become the Department of Community Medicine.
The department main activities are: teaching medical students both under and postgraduates the principles and methods of epidemiology, medical statistics, basic epidemiology and control of communicable and non-communicable diseases. This is in addition to teaching of primary health care concepts and practical programmes in Iraq. Health care administration (planning management and evaluation techniques) as well as medical sociology and demography are also taught by the department. Brief sessions are also given on topics related to health economics, health information and utilization of health care services. A short course is also arranged to tackle problems of environmental and occupational health.
In addition to teaching, members of the department are pioneers in research and advisory work to other departments in the college of medicine and to the health authorities in Basrah. The research activities cover a variety of health problems such as measurement of population health, identification of risk factors, evaluation of health services performance, and medical ethics conduct. The interest in health system research is growing and the department is active in research and development in coordination with health authorities in Basrah during the last 20 years. The department conducted a series of household survey in different parts of Basrah city and its suburbs. These surveys were designed to provide practical opportunities to both staff and medical students to apply community medicine and epidemiology concepts and techniques at population level. They also provide relevant data on socio-demographic, health and environmental conditions of the population, which all can be used to improve health and services delivery in targeted study areas.
Email
asaad.taha@uobasrah.edu.iq